Every spring for twen­ty-five years, I've done a spring hawk watch at the Arbore­tum, usu­al­ly from the Meet­ing House. It sits on a prom­e­nade over­look­ing a bend in the Schoharie Riv­er, which flows north to south. The riv­er val­ley serves as a cor­ri­dor for hawks in their spring migra­tion, and this loca­tion affords a nice view­ing area. Hawks are late ris­ers, what with the first of the morn­ing being tak­en up with hunt­ing for food. As the day pro­gress­es, the sun heats up the land, cre­at­ing ther­mals and wind move­ment. The hawks make use of these phe­nom­e­na to con­serve ener­gy need­ed to fly north.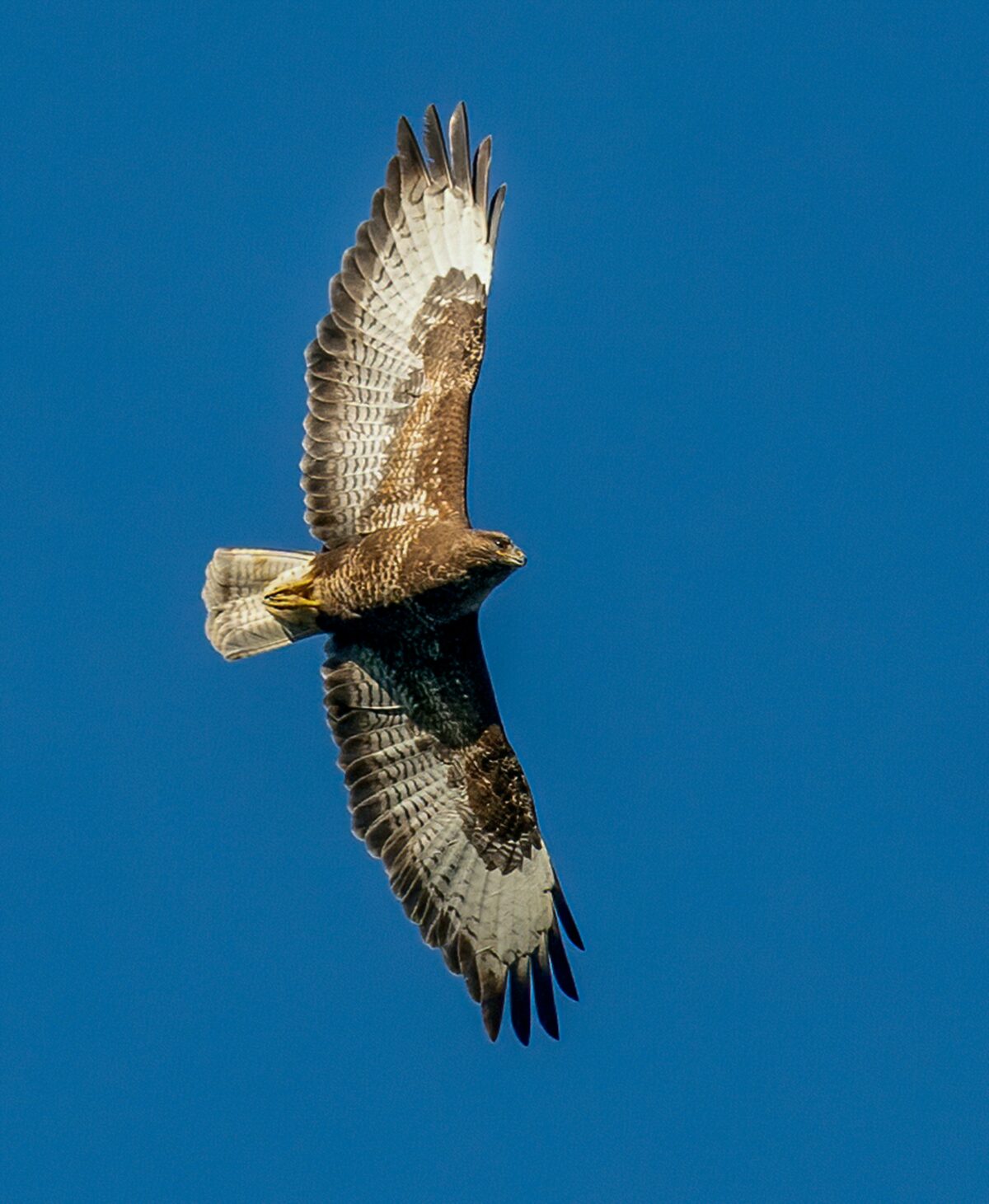 The star of the show is not, as you might think, the bald eagle. It's the broad-winged hawk. It's not a hawk you're like­ly to see along the inter­state road­ways — that's the red-tailed hawk. The broad-wings migrate from the
forests of north­ern South Amer­i­ca to sum­mer in our north­ern wood­lands. Over the years, we've had great views of these hawks, some just at tree-top level.
The oth­er long dis­tance migra­to­ry, the osprey, trav­els even longer dis­tances, some­times from as far away as Argenti­na. Ospreys are not as numer­ous as oth­er hawks, but make for a fan­tas­tic sight with their ​"M"-shaped wing sil­hou­ette as they cir­cle out over the valley.
The most excit­ing hawk to have zipped past over the years was a mer­lin. Blink and you're like­ly to miss it. When migrat­ing, these medi­um-sized fal­cons are all busi­ness. One seen a few years back flew in so low along the hill­side that we were look­ing down on it instead of cran­ing our necks upward.
Oth­er hawks that we've seen include sharp-shinned and Cooper's hawks (small­er accip­iter, or bird-eat­ing hawks) and north­ern har­ri­ers. These might be res­i­dent birds or migrants.
Very like­ly the bald eagles, red-tailed hawks, and turkey vul­tures seen are res­i­dents in our val­ley. Local or not, they're a fine sight as they soar with­in view.
As one waits patient­ly for hawks to show up, there is a sideshow going on that's hard to miss: the singing and fly­ing of res­i­dent and ear­ly migrant non-rap­to­r­i­al birds. Most of these are the song birds, although we have also iden­ti­fied water­fowl, herons, and oth­ers. The most abun­dant are the tree swal­lows, chip­ping spar­rows, goldfinch. and crows. Lat­er in the spring at the ear­ly morn­ing bird walk, we iden­ti­fy almost twice as many species as we range out beyond the Meet­ing House, and as more birds have returned from their win­ter homes.
The last pro­gram of the year, the Hal­loween Owl Prowl, is also held at the Meet­ing House. After I do an intro­duc­tion to our three com­mon owls, the East­ern screech-owl, the barred owl, and the great-horned owl, we ven­ture into the woods to call and lis­ten. Barred owls are the most fre­quent­ly found, with a great-horned owl heard once. To date, how­ev­er, no screech owls have been dis­cov­ered. Once I was clean­ing up after a pro­gram when I heard a whip-poor-will call­ing from the woods, a rare event.
The Arbore­tum is full of sur­pris­es and delights for the bird lover. So whether you join me for a pro­gram, or hike the forests and fields on your own, you're sure to have a mem­o­rable visit.
---
---