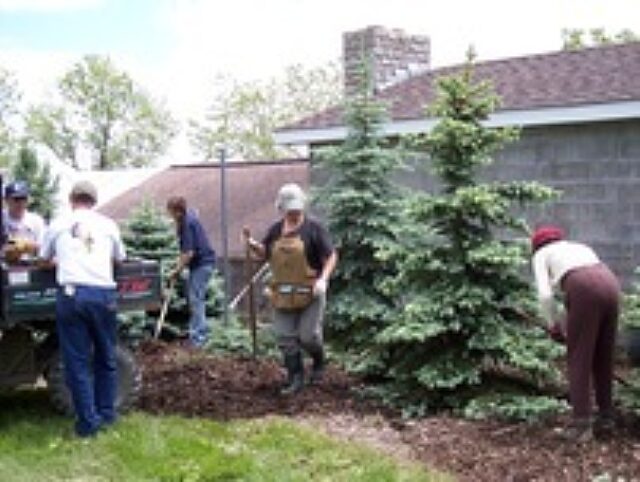 Vol­un­teers are the back­bone of Lan­dis Arbore­tum, offer­ing a help­ing hand in the Arbore­tum gar­dens since the ear­ly 1950's. George Lan­dis and Lev­on ​"Van" Love­land., friends of Fred Lape, spent hours design­ing, plant­i­ng, water­ing, fer­til­iz­ing, and mulching the areas that now fea­ture three sea­sons of peren­ni­al bloom. Our vol­un­teers con­tin­ue that effort today.

Oth­er vol­un­teers have been hard at work keep­ing the gar­dens bloom­ing and look­ing good. These vol­un­teers are much small­er and qui­eter and per­haps more often unno­ticed. These vol­un­teers are known as ​"pol­li­na­tors" and include bats, hum­ming­birds, bees, moths, but­ter­flies, bee­tles, ants, and hum­ming­bird moths. Trav­el­ing from flower to flower in search of nec­tar, insects, or hon­ey­dew, they move pollen around as they go. This exchange is nec­es­sary for fruit and seed production.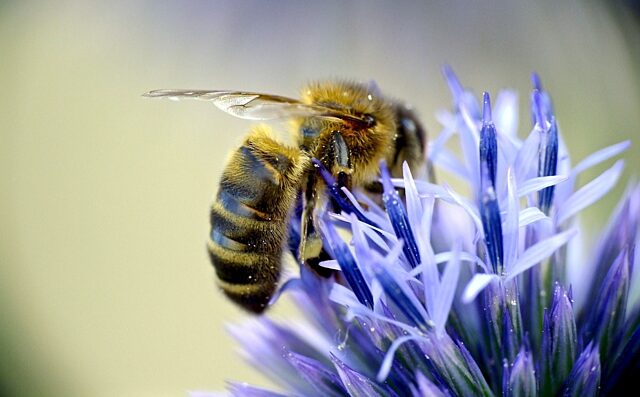 Some­times plants such as this­tle, dan­de­lion, and bur­dock vol­un­teer them­selves in the gar­den. These plants also have an impor­tant job to do. Not only are they all nutri­tious food sources to pol­li­na­tors, wildlife, and humans, but they are also good at improv­ing soils (remem­ber, these each have a tap­root that trav­els as deep into the soil as nec­es­sary to find need­ed nutri­ents that are less avail­able on the sur­face). These essen­tial nutri­ents trav­el up the root and into the rest of the plant. When the plant dies (remem­ber these are annu­als or bi-annu­als), those healthy leaves break down back into the top­soil and enrich it.
Anoth­er group of often under­ap­pre­ci­at­ed vol­un­teers in the gar­den includes the wild seeds plant­ed by nature. These seeds come from neigh­bor­ing plants and trav­el by wind or rain to find a new home. Some of these seedlings can be weedy, but oth­ers such as the pic­tured Ver­be­na bonar­ien­sis (Tall Ver­be­na), Bap­tisia aus­tralis (False Indi­go), Cleome (Spi­der Flow­ers), and Echi­nacea pur­purea (Pur­ple Cone­flower), are beau­ti­ful addi­tions to any garden.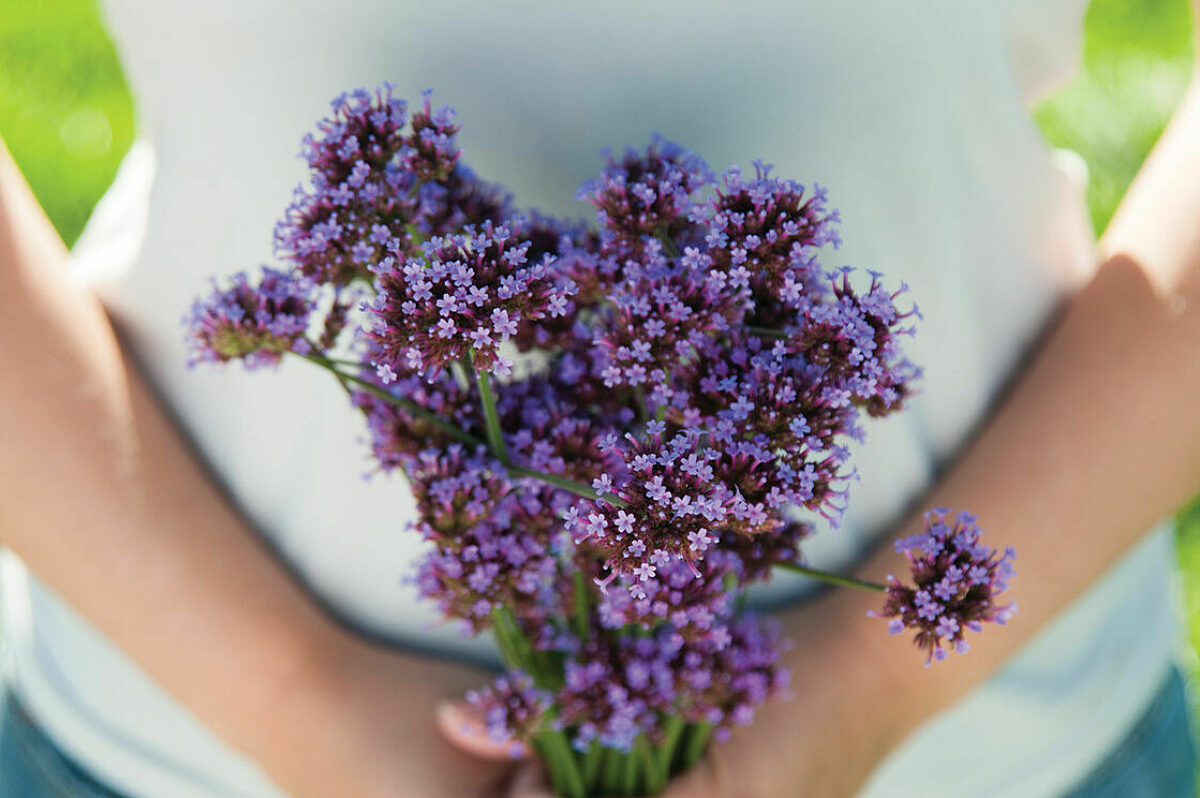 As sum­mer con­tin­ues, you can be sure that vol­un­teers at Lan­dis will be hard at work in the Arboretum's gar­dens. If you are inter­est­ed in help­ing in this labor of love, con­sid­er becom­ing a mem­ber of the Arboretum's Gar­den Club. We are a group of peo­ple who enjoy learn­ing about plant-relat­ed top­ics. We have a range of projects from rain­wa­ter col­lec­tion bar­rels to a new kitchen gar­den instal­la­tion. There is absolute­ly some­thing for every gar­den­er. Our next meet­ing is July 29th at 9:30 AM: join us as we explore two local gar­dens. To learn more, please con­tact me by email at gardenflowerfairy@​yahoo.​com or by phone at (518) 875‑6935.
---
---