It's sum­mer and the Van Love­land gar­dens at Lan­dis are in full bloom. An abun­dant mix of day lilies, phlox, fox­glove, lilies, bee balm, salvia, yarrow, and rud­beck­ia fill the air with their fra­grance attract­ing bees, but­ter­flies and hummingbirds.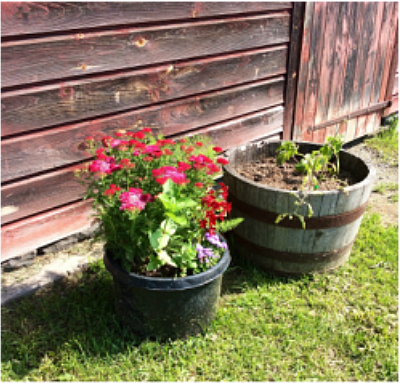 Although the Van Love­land peren­ni­als have always been a favorite of gar­den­ers — and pol­li­na­tors — the Lan­dis Gar­den Club met in the ear­ly spring to dis­cuss cre­at­ing new gar­dens. The ques­tion then was, what type? A herb gar­den full of both culi­nary and med­i­c­i­nal herbs? A har­vest gar­den with heir­loom veg­eta­bles? A children's gar­den? In the process we learned from one anoth­er, such as that plants like south­ern globe this­tle and pars­ley attract but­ter­flies, while many vari­eties of sedum attract pol­li­na­tors includ­ing bees, but­ter­flies, flies, and hum­ming­bird moths. Then we real­ized that by minia­tur­iz­ing and cre­at­ing themed planters, we could estab­lish sev­er­al dif­fer­ent gar­dens in one sea­son. So the mem­bers came togeth­er in ear­ly June to decide on the planters' themes. The result: ​"Pol­li­na­tor Attrac­tant Plants," ​"But­ter­fly Gar­den," ​"Piz­za Gar­den," ​"Plant­i­ngs for the Blind and Visu­al­ly Impaired," and ​"Fun Plants That Kids Like to Eat,"
The ​"Piz­za Gar­den" includes herbs com­mon­ly used on piz­za such as thyme, basil, and oregano. This gar­den is espe­cial­ly fun for chil­dren who can smell the aro­mat­ic herbs when they touch them. The plants were cre­ative­ly plant­ed in the clas­sic ​"piz­za wheel" shape, sep­a­rat­ed with rocks paint­ed to look like pepperoni.
The ​"Plant­i­ngs for the Blind and Visu­al­ly Impaired" con­tain­er includes fra­grant plants such as mint and spearmint and the soft and fuzzy lamb's ear. While gar­dens are usu­al­ly a feast for the eyes, these plants were cho­sen to please our sens­es of smell, taste, and touch.
The ​"Fun Plants That Kids Like to Eat" con­tain­er includes sug­ar snap peas on a trel­lis, easy for a child to both tend and pick for a tasty snack! It also has cher­ry toma­toes and snow peas, as well as edi­ble flowers.
All of the Lan­dis Gar­den Club con­tain­ers can be found along the front side of the Barn, just past the Farm­house. Labels and edu­ca­tion­al infor­ma­tion com­ple­ment each one for an infor­mal learn­ing experience.
Future club endeav­ors include plant­i­ng peren­ni­als along the new retain­ing wall at the Meet­ing House and a ​"Cuss and Dis­cuss Gab" at the gar­den­ing season's end. Gar­den­ers of all tal­ents are invit­ed to join the Lan­dis Gar­den Club. For more infor­ma­tion please con­tact me at gardenflowerfairy@​yahoo.​com.
---
---