The Van Love­land Peren­ni­al Gar­den has long been cher­ished by vis­i­tors at Lan­dis, and many friends (and hands) have kept the gar­den grow­ing over the years. In the past, the gar­den beds stretched across the field where the Mag­no­lia Col­lec­tion is now locat­ed. There was an annu­al flower gar­den across from the Barn and a col­lec­tion of ros­es behind the Farm­house. Although the gar­den has changed over time, many of the orig­i­nal flow­ers remain and include a few that impress vis­i­tors year after year.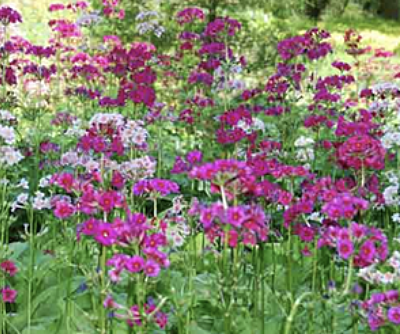 The Prim­u­la japon­i­ca (can­de­labra prim­rose) con­tin­ues to grow hap­pi­ly along the rock wall and in the field just beyond the Van Love­land Gar­den. The wet and shady envi­ron­ment is per­fect for this stun­ning low-main­te­nance peren­ni­al, which will bloom from May through July — unless drought occurs. A palette of lime green leaves com­ple­ments the light and dark pink flow­ers that open on tall stems about a foot off the ground.
Rosa ​'Harrison's Yel­low' (Ore­gon Trail Rose) began its sto­ry in the ear­ly 1800's as a chance hybrid in a gar­den just out­side of New York City (Wikipedia). Cut­tings were mar­ket­ed, and the flower was said to be intro­duced to the west­ern Unit­ed States by pio­neer women who trav­elled along the Ore­gon Trail. This won­der­ful rose, over five feet tall and at least as wide, stands along the dri­ve­way side of the gar­den. When in bloom, cheery and fra­grant yel­low flow­ers cov­er the plant, a true show stopper.
Our Clema­tis viti­cel­la ​'Bet­ty Corn­ing' could be one of Lan­dis' most unique and his­toric plants in the Van Love­land Peren­ni­al Gar­den. It was dis­cov­ered in the 1930s by Bet­ty, wife of Albany's May­or Eras­tus Corn­ing and pres­i­dent of the Lan­dis Board of Trustees, and sub­se­quent­ly intro­duced into the botan­i­cal world. The ​'Bet­ty Corn­ing' clema­tis is a drought tol­er­ant plant that needs lit­tle main­te­nance. It is cov­ered with the sweet­est bell-shaped laven­der flow­ers all sum­mer. Slight­ly fra­grant, it attracts bees and hum­ming­birds. Lan­dis has two thriv­ing spec­i­mens along the garden's main corridor.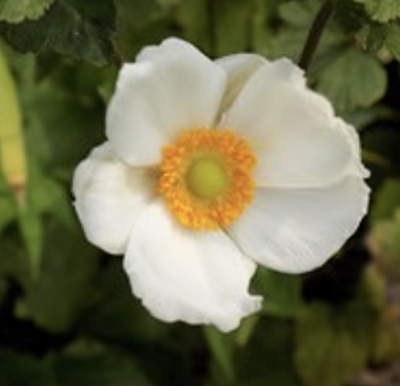 The Anemone x hybri­da ​'Hon­orine Jobert' is locat­ed along the stone walk­way per­pen­dic­u­lar to the Bet­ty Corn­ing clema­tis. Its long-await­ed blooms open on tall stems in late August and last well into fall. This ​"old-time peren­ni­al" brings back mem­o­ries of the sophis­ti­cat­ed and roman­tic gar­dens of the past, although it cer­tain­ly has a place in today's gar­dens as well.
Colchicum autum­nale, often called ​"autumn cro­cus", is a fall-flow­er­ing bulb, often con­fused with the true, spring-flow­er­ing cro­cus. Relat­ed to the lily, Colchicum autum­nale pro­duces its leaves in spring, then pulls all of its ener­gy back into the bulb. As the sea­son pro­ceeds it is easy to for­get about those leaves, until one day in ear­ly or mid-Sep­tem­ber a beau­ti­ful pur­ple flower sud­den­ly appears. Then anoth­er, and anoth­er, with no leaves. Though each flower lasts only a few days, every bulb pro­duces flow­ers in abun­dance, and new blooms open again and again. Lan­dis has a love­ly fall dis­play of Colchicum flow­ers in the gar­den. There are sev­er­al vari­eties, includ­ing the large Colchicum byzan­ti­num and Colchicum spe­cio­sum ​'Alba' (white autumn crocus).
All are wel­come to vis­it the Van Love­land Peren­ni­al Gar­den at Lan­dis, dawn to dusk, and enjoy these (and many more) beau­ti­ful blooms. Lan­dis also dis­plays many of its plants on its web­site (www​.lan​dis​ar​bore​tum​.org), Face­book page (www​.Face​book​.com/​L​a​n​d​isArb), and Insta­gram (Insta​gram​.com/​l​a​n​d​i​s​a​r​b​o​r​etum/). Come and see, smell, touch, and enjoy this abun­dance of nature with us!
---
---