While it is true that, sad­ly, one in five plant species is cur­rent­ly at risk of extinc­tion, approx­i­mate­ly 2,000 new plants are dis­cov­ered each year, as The Guardian report­ed in 2016. Though few of these new­ly found species are ​"pre­his­toric" — mean­ing that they have exist­ed for mil­lions of years — once in a while such a species is actu­al­ly dis­cov­ered. This is the sto­ry for two such pre­his­toric plants at Lan­dis, Sci­ado­pi­tys ver­ti­cil­la­ta, Japan­ese umbrel­la pine, and Metase­quoia glyp­tosto­boides, dawn redwood.
Sci­ado­pi­tys ver­ti­cil­la­ta is an ever­green conifer that dates back to the Tri­as­sic peri­od (250 — 199 mil­lion years ago).
Though it once thrived across Eura­sia and North Amer­i­ca, today it is only found in Japan. A true liv­ing fos­sil on earth, Sci­ado­pi­tys grows slow­ly and will attain a height of 60 feet with a 15 – 20 foot spread. Hardy to zones 5 – 10, it has few insect and dis­ease issues, although it does require moist but well-drained soils and some pro­tec­tion from exces­sive wind. This conifer does not tol­er­ate stand­ing water, drought, or air pol­lu­tion and prefers full sun or fil­tered shade.

The stand-out fea­ture of Sci­ado­pi­tys ver­ti­cil­la­ta is most def­i­nite­ly its leaves. Two kinds of leaves are present on its branch­es: one is small and scale-like, gath­ered at branch tips. The oth­er, more obvi­ous, leaves are glossy green, 2 – 5 inch­es long, resem­bling pine nee­dles, yet 1⁄8 inch­es wide and thick skinned due to the fusion of two actu­al leaves to resem­ble one. These plas­tic-appear­ing leaves are amaz­ing to see and touch — and seem actu­al­ly pre­his­toric!

Three Sciado­pi­tys ver­ti­cil­la­ta grow at Lan­dis. The old­est spec­i­men was plant­ed by Lan­dis founder Fred Lape in 1951 and can be found at the far end of the Choice Conifer Col­lec­tion. It sur­vived mul­ti­ple storms and drainage prob­lems over the years, but it is still thriv­ing. You will find anoth­er that was plant­ed in 1988 near the Fred Lape Memo­r­i­al Stone (along the Fred Lape Trail), and the third pro­tect­ed with­in the Conifer Col­lec­tion out­side of the Library/​Greenhouse com­plex beyond the Barn.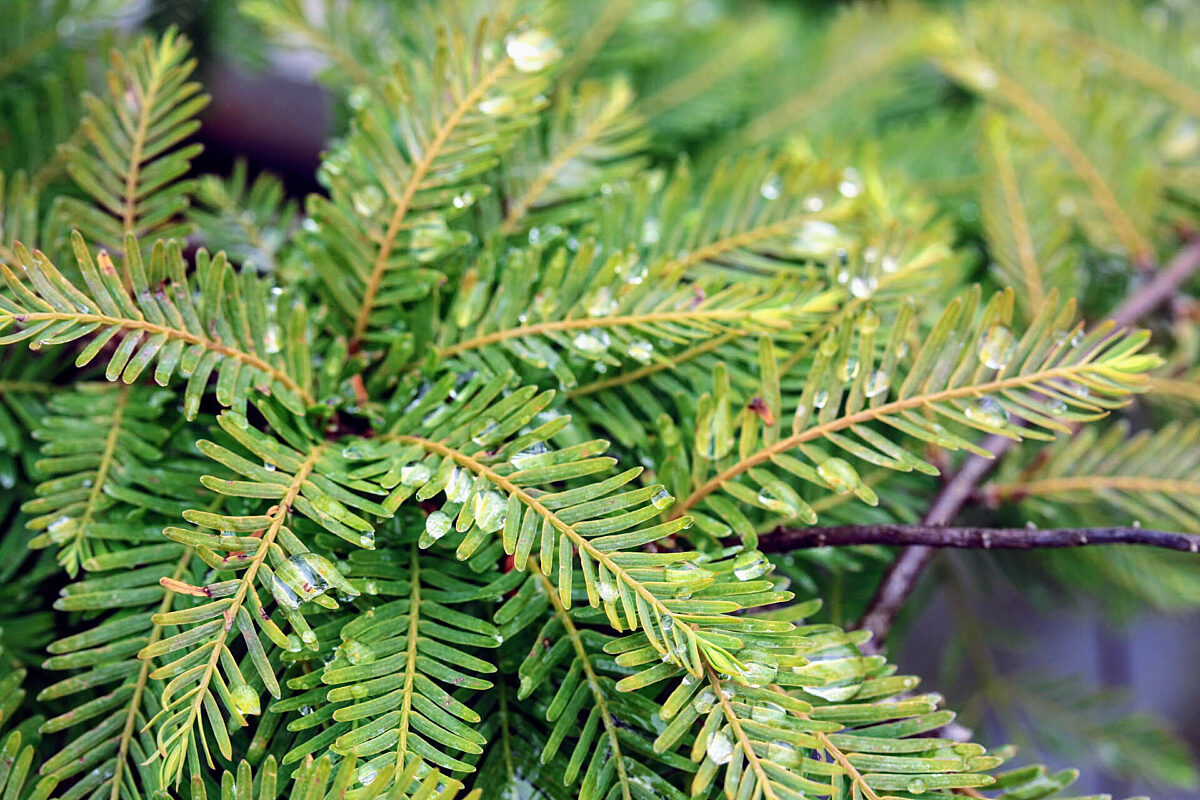 "I've nev­er met-a-sequoia I didn't like" — you will hear me crack this joke. Metase­quoia glyp­tostroboides is one of the most notable trees at Lan­dis because it has a direct con­nec­tion to the species' dis­cov­ery in Chi­na in 1947. Short­ly after­ward, seeds were import­ed by the Arnold Arbore­tum at Har­vard Uni­ver­si­ty, and Fred Lape was able to obtain some of them to prop­a­gate here. Lan­dis' old­est Metase­quoia lives on the hill above the main park­ing lot and is a gor­geous spec­i­men to see. It will grow to be over 100 feet tall with a crown spread of about 25 feet. Hardy to zones 5 – 8, it has no known pest or dis­ease issues and can tol­er­ate many soil con­di­tions. Lov­ing full sun best, this fast grow­ing tree is a showstopper.
​
The leaves of the Metase­quoia glyp­tosto­boides stand out amongst oth­ers for their soft, feath­er-like feel and beau­ti­ful cop­per orange col­or in autumn. As one of the few decid­u­ous conifers, this tree will lose its nee­dles for win­ter. When it matures, it takes on a con­i­cal shape, and its bark even­tu­al­ly dark­ens with age like a fine wine.
Pic­ture
A new grove of Metase­quoia glyp­tostroboides was plant­ed just beyond the orig­i­nal tree and can be found as you reach the top of the hill. This col­lec­tion was plant­ed along a drainage ditch, which sim­u­lates its growth habit of grow­ing along rivers in Chi­na. The trees have been doing remark­ably well since the site pro­vides them ade­quate water dur­ing dry times, but not ​"wet feet."

At the upcom­ing Lan­dis Arbore­tum sig­na­ture Spring Plant, Book and Bake Sale, you may find some of these pre­his­toric trees for sale. Con­sid­er giv­ing these notable spec­i­mens a home in your yard and know that the trees you plant have been sur­viv­ing as a species since the age of dinosaurs!
---
---