Omnia mirari eti­am tri­tis­si­ma.* — Karl Linnaeus

Full dis­clo­sure: I was a clas­sics minor.

As an ama­teur gar­den­er, I am in awe of the Swedish botanist Karl Lin­naeus' sys­tem of bino­mi­al nomen­cla­ture. That would be ​"bi" (two) + ​"nomen" (name) and ​"clatu­ra" (a sum­mon­ing). His sys­tem for nam­ing plants in two words is accept­ed by botanists world­wide – a uni­ver­sal lan­guage, part poet­ry, part science.
Who could fail to see the poet­ry in Liq­uidambar styraci­flua? Just say it to your­self and repeat it like a mantra. Liq­uidambar styraci­flua .… (lick-wid-AM-bur stye-ruh-SIFF-loo-uh). It's ​"liq­uidus" + ​"ambar" (amber) and ​"styrax" (resin) + ​"flua" (flow­ing). Amer­i­can sweet­gum. There are sev­er­al spec­i­mens at Lan­dis, with bril­liant red star-shaped leaves in the fall and spiny balls of seed cap­sules. Native Amer­i­cans used the ​"sweet gum" of injured trees as a kind of chew­ing gum and also for med­i­c­i­nal pur­pos­es. ​"Sweet­gum" would be under­stood by those of us in North Amer­i­ca, but Liq­uidambar styraci­flua is under­stood by botanists in all parts of the globe.
Botanists are sci­en­tists, and they under­stand that, under Lin­naeus' sys­tem, the first des­ig­na­tion is the genus (Latin: clan or tribe). The sec­ond term, species (Latin: appear­ance, shape), indi­cates the clos­est relat­ed plants.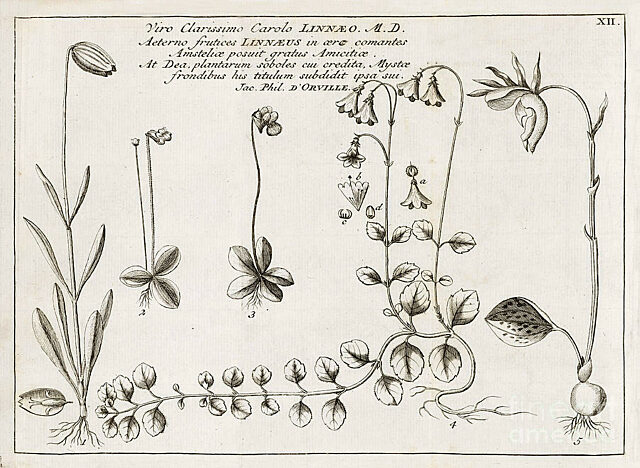 Before Lin­naeus, the botan­i­cal world was a con­fus­ing wel­ter of com­mon names. Take, for exam­ple, those ​"autumn cro­cus­es" in the Van Love­land gar­den at the Arbore­tum. In the Eng­lish speak­ing world, they are some­times called ​"naked ladies" in the US or ​"naked nan­nies" in the UK, since the flow­ers emerge long after the leaves have died back. In Ger­many, they are called ​"Herb­st­tulpe," autumn tulips. But in point of fact, they are nei­ther cro­cus­es (Greek, from the word for ​"saf­fron") nor tulips (the Latinized word for ​"tur­ban," a ref­er­ence to where these bulbs orig­i­nat­ed). The world under­stands Colchicum autum­nale: from Colchis — in Asia Minor where are they are native, bloom­ing in the fall.

And so it goes mov­ing through the Arbore­tum gar­den: the com­mon cone­flower: Echi­nacea pur­purea: ​"Echi­nos" is Greek for ​"hedge­hog," refer­ring to the spiny core of the flower. ​"Pur­purea" indi­cates the col­or pur­ple. ​"Echinops," the globe this­tle, forms from ​"hedge­hog" + ​"opsis," appear­ance. Gera­ni­um san­guinem: the ​"bloody" cranes­bill. As dis­tin­guished from com­mon gera­ni­um, Pelargo­ni­um, from ​"pelar­gos" = Greek, ​"a stork," refer­ring to the stork­bill-like fruit.

Some­times the names give us clues about the plant's cul­tur­al require­ments. The com­mon name ​"baby's breath" is cer­tain­ly poet­ic enough, a cloud of tiny white blos­soms, but Gyp­sophi­la pan­ic­u­la­ta says much more: ​"lover of gyp­sum or cal­care­ous soil" + ​"tuft­ed." Don't try to grow this plant in acid soils! ​"Palus­tris" means swamp – there are ​"marsh marigolds" (Caltha palus­tris) at the edge of sev­er­al of the Arboretum's ponds – but they are not marigolds at all! Marigolds are Tagetes, from Tages, an Etr­uscan deity, the grand­son of Jupiter, who sprang from the ploughed earth.
"Repens" will creep. ​"Scan­dens ​"will vine. ​"Con­tor­ta" will be twist­ed. ​"Pen­du­la" will be weep­ing. If you are look­ing for a plant for a shade gar­den, ​"sylvestris" (of trees) will suit your pur­pos­es. ​"Sem­per­virens" will be ever­green. ​"Admirabilis" or ​"ele­gan­tis­simus" will cer­tain­ly bring you plea­sure. ​"Offic­i­nalis" will have med­i­c­i­nal prop­er­ties. ​"Odor­a­tus" will be sweet smelling; ​"foetidus" will be stink­ing.
It doesn't mat­ter if you've stud­ied Latin or Greek. Thanks to the genius of Karl Lin­naeus, we gar­den­ers all speak the same language!
* Rough­ly: ​"Find won­der in every­thing, even the most com­mon­place." Lin­naeus' motto.
Long­time Arbore­tum sup­port­er and nature edu­ca­tor Ani­ta Sanchez's children's book, Karl, Get Out of the Gar­den! Car­o­lus Lin­naeus and the Nam­ing of Every­thing (Charles­bridge Pub­lish­ing) is a won­der­ful gift for any child more at home in nature than in the class­room. Per­haps the best resource for gar­den­ers who won­der why we orga­nize plants by their botan­i­cal names at our plants sales (or those who ven­ture along Ed Miller's Native Plant Trail) is Dic­tio­nary of Plant Names by Allen J. Coombes (Tim­ber Press).
---
---